Club Proficiency dates:
ONLY TWO LEFT
04 November 2018 @ 9am
10 November 2018@ 9am
Please let your Patrol Captain know which day you will be attending or if you need to attend another club's proficiency.
If these dates do not suit – check the Point Danger Branch Calendar for other clubs. Contact me to organise your proficiency at another club. You can not just turn up – permission must be sort.
Skills Maintenance THEORY PAPER:
All Active Patrolling and Award Members will need to complete the 2018/2019 Skills Maintenance theory paper online BEFORE attending the Proficiency. If you do not have access to a computer let the Club Captain know and you will be given access to the club computer.
Please remember to bring with you the receipt that shows that shows you have completed the online theory paper.
SLSQ SKILLS MAINTENANCE THEORY PAPER – ONLINE.
Below are the steps for you to complete the theory paper online on the SLSA members portal.
Log-in to your SLSA Members Portal https://members.sls.com.au/
Go to the Training Library within e-learning
Then select view course for SLS- Lifesaving Queensland in the course category option.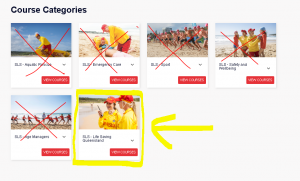 Next go to COURSES – Then enrol (Free) into the SLSQ – 2018/2019 Season Skills Maintenance Bulletin which has both the reading and question paper.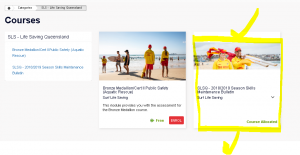 Complete the SLSQ 2018/19 SKILLS MAINTENANCE THEORY PAPER.
Email cto@bilingaslsc.com if you have any problems